Back to: Our Dogs | 'A' Litter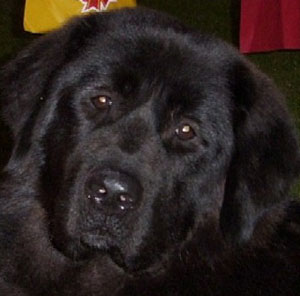 DOB:

15/07/2001


Sire:

Ch. Himalaya's Patriarch Bravura (Luther)


Dam:

USA Champion Himalaya's Adagio (Addie)

Imogyn is presently the accepted leader amongst the canine females in our yard. She is quite a big girl and has a very pretty and expressive face.

Imogyn doesn't have Elora's capacity to run and run and run all day so, to slow things down for a breather, Imogyn will lay in the wading pool and cool off. If Elora continues to insist on playing, Imogyn will stand up and shake water all over Elora, to dampen her enthusiasm. Imogyn adores the water, the more water the better. It can be a challenge to throw out a fishing line without Imogyn diving in after the hook and bait. This doesn't do much for the fishermen in the family, but does provide a handy excuse for the empty basket on their return.

Imogyn also has her own soft toy and mothers it mercilessly. The toy spends its days in Imogyn's bed. She even gives the toy choice morsels from her dinner bowl to share. When Imogyn was younger our daughter would hide the toy. A great search would follow until Imogyn found her toy again; there was no going to bed until the toy had been found. This turned into a regular game and was always fun for all.

Imogyn's favourite thing is our daughter, without question.