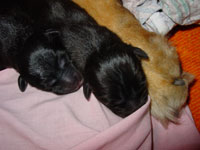 2 Puppies from 'B' Litter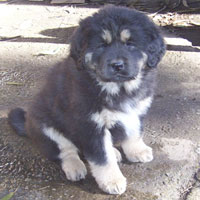 Lily ('B' Litter)
Not only are Tibetan Mastiffs a rare breed, they are an ancient breed. As a result, they cycle annually, normally around Autumn. Because of the limited quality breeding stock available in Australia, different colours of puppies within the litters is usually limited. We would advise against setting your heart on a particular gender and colour of puppy, as availability of puppies is limited also.

Ideal homes for Tibetan Mastiff puppies would be people who wish another family member, not just an ornament. These dogs need to be able to run in their yards, so a well-fenced suburban backyard would be a minimal requirement. Chewing and digging can be problems if the dogs aren't kept active and stimulated mentally. Some Tibetan Mastiff have a tendency to bark at night. If your Tibetan Mastiff is a night barker, he needs to have a shed or kennel to sleep in, or to be kept inside at night. Alternately, you will need very forgiving neighbours!

Our primary motivation is in finding our puppies a loving home. We never insist on the puppies being shown. These dogs are pathologically loyal to their owners and do not re-home well. We have now imported three older TM's and have found that it takes about 12 months for the dogs to relax and settle in with us properly. Whilst they enjoy the company of our family, they fretted for their previous owner and breeder. We are very mindful of this and hope always to place the puppies where they will be most valued and loved. However, should a puppy or dog not fit into the family unit, we will happily re-home them.

We hope to make owning one of our puppies as enjoyable as we can, as much for the puppy as for the new owner. With this in mind, we have been available to all our new parents in a supportive capacity. The puppies we have placed have gone to great homes. All the new "parents" have maintained contact with us and some have become friends through our mutual respect and admiration for the breed. Universally, they have been delighted and amazed at the temperament of their puppies, and the way their puppies, now young dogs, display the breed characteristics they only read about.