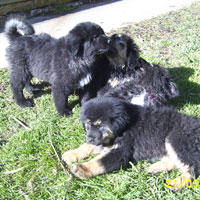 Puppies from 'B' Litter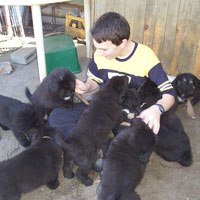 Puppies from 'B' Litter with James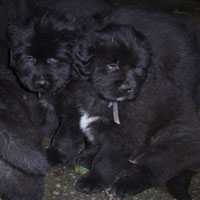 Puppies from 'B' Litter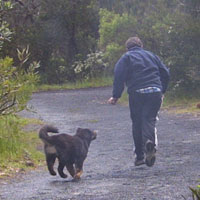 Lily & James
In their native Tibet, these dogs are employed for different purposes. Consideration would be given to the body type of the different pups before choosing the best use for a given dog. Some dogs would be left to guard flocks of llama, yak or sheep from such formidable predators as wolves and snow leopards. The terrain was often mountainous and so the Tibetan Mastiff had to be agile and sure-footed to work in this environment.

We have found all our TM's accept our other pets without question, including the family cat, our lamb and cows. The pups discovered how to push their heads through the mesh of the fence to say hello to the cows. The cows now seek out the dogs and greet them with kisses. It has been suggested that it is something to do with the way the dogs approach other animals which signals the lack of a threat, allowing such interaction.

Traders, traveling through villages, would sometimes sit a dog on top of particularly valuable cargo, to further ensure its protection, or the dogs would walk with the caravan. Stamina such as we have seen in our dogs would be required for such trips.

In Tibet, villages and monasteries had a Tibetan Mastiff as protection. TM's were sometimes kept on a short chain in doorways of homes during the day and were seen at entrances to monasteries also. For this reason, the Tibetans refer to the dogs as do-kyi, gate dogs. At night, they were released to roam, forage and protect the village. The TM is sometimes credited with a trait of night barking. While this trait is by no means universal perhaps this is the origin of the trait? They are also credited with very good night vision, which would enable them to see predators or prowlers.

In Tibet it is recorded that children much smaller than the dogs were easily in control of the Tibetan Mastiffs, who are renown for their loyalty and affection for their family. Our dogs have never even accidentally knocked over a toddler, although children seem to fascinate the dogs. Trips to collect our children from school and visitors with their young families are always popular events on the dogs social calendar.

Many travelers to Tibet believe TMs to be wild dogs, incapable of domestication. We have found quite the opposite. The intelligence and desire to please has seen our own TMs progress readily in Obedience Training and become firm friends of all the extended family.