Back to: Our Dogs | 'A' Litter | 'B' Litter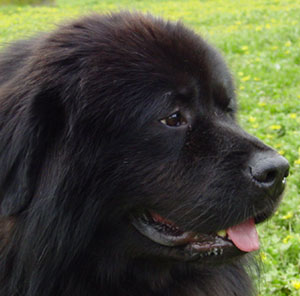 DOB:

16/12/1999


Sire:

Shang-Hai's Jack the Bear


Dam:

Kona Ni A Soechavati

Luther is our second import and sire of our "A" and "B" litters. He is quite a physically different dog to Addie. He has a dense coat and a striking mane. He has a solid frame and is a formidable watch dog. Luther is every inch the guardian. Even when we are sure he is sleeping, the slightest noise will see him up and investigating.

Luther also had no experience of cats, kids, cattle, poultry etc., but has adopted us all as his own. Dee proudly sports Luther as a shadow during outings and at dog training.

We have three entire males in our yard and, whilst we are watchful, there has never been the slightest cause for concern. Luther would like us to think he is too mature for play time. He enjoys rough and tumble games with the other dogs, but looks a little guilty sometimes, when he realizes he has been seen by us. After all, he has his image to protect! Whilst he loves pats and affection, he is less likely to approach us for this, unless we have been out without him. At these times his reserve crumbles and he is just a big puppy. Luther definitely verbalizes at such times, with growls and rumbles of excitement.

Luther more than the others tends to guard any bones he is given, preferring to wait to ensure the bones don't reincarnate, I suspect. Once satisfied, he will quietly work away at the bone happily.

Luther's favourite things are lots of rough pats and guarding us all.