Back to: Our Dogs | 'A' Litter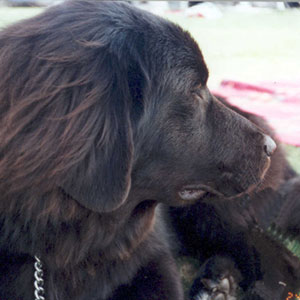 DOB:

15/07/2001


Sire:

Ch. Himalaya's Patriarch Bravura (Luther)


Dam:

USA Champion Himalaya's Adagio (Addie)

Elora is a gentle and sweet dog with her father's shaggy coat and her mother's sense of fun and play. There is nothing which bothers Elora, the world is just an interesting place to see and explore.

Elora likes nothing more than to be instigate a play session with the other dogs. She is relentless in her drive to entice the others to play with her, and invariably successful. She is quick and agile and just loves to run rings around the slower dogs. Her facial expression at such times is of pure delight.

Elora has a soft toy which is her prized possession. It is always kept in her bed and she enjoys curling up with it at night. This toy plays tunes when squeezed at a certain spot and, should Elora need to go out before our daughter is out of bed, she makes her toy play music, waking our daughter.

Elora is quite active in her bids to gain affection and attention from people and verbalizes her pleasure at such times. She adores play sessions with Sharma.