Back to: Our Dogs | 'B' Litter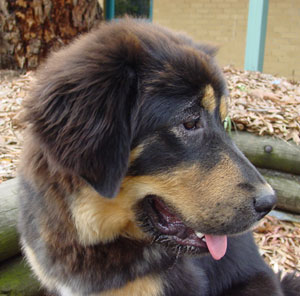 DOB:

30/06/2003


Sire:

Ch. Himalaya's Patriarch Bravura (Luther)


Dam:

USA Champion Himalaya's Adagio (Addie)

Lily has a lovely, heavy coat, like her father, and her mother's sense of fun. Lily is everyone's best friend and has a passion for life. She is vocal in her enthusiasm for our company, using a mixture of grumbles and rumbles to signal her delight. Her particular favourite in the family is James and she is the best girlfriend he will ever know. She won't ever be jealous or demanding of his time and attention.

James and Lily both enjoy running and ball play games. Lily steadfastly takes the view that, if James threw the ball, he can retrieve it. She will let him know where it is, but if he didn't want to go get it, he shouldn't have thrown it in the first place! Many are the time we see James and Lily rolling around in the grass in the yard.

Lily thoroughly enjoys the games of tag and leap frog in the yard with the other dogs. As a result of all this running and playing, Lily is an athletic looking young lady who promises to be quite a stunning and large girl.

Lily's favourite thing in the world is James and maybe briefly, anyone else who is cuddling her.